Sponset tur
–
The most hilarious day of the year
–
Okay, so yesterday was the most hilarious day I've had in a looong time, haha. I don't even know how Eirín and I do it, but some way or another, we always manage to fuck even the simplest situation up. The day started at 5am, and I called Eirín right before 6am to make sure that she was awake and ready to go. She didn't pick up, and texted me «I'm awake, I have the alarm on 6am…». I texted her asking if she was aware our first flight left in one and a half hour. She was NOT! Hahah. Poor thing, she rushed to the airport straight from bed and didn't even have time to do her makeup. 25 minutes before our plane left, I realized that I had forgotten my passport. Who does that?!? My boyfriend rushed to the airport with it, and I literally got it 1 second before they closed the gate. Puh!! The plane wasn't ready to leave yet, so we were on the ground for 45 minutes before it left, and landed in Oslo 15 minutes before our next flight left. Stressful enough in itself, but I was reeeally stressed as I hadn't even been checked into the flight! I mean.. In some miraculous way we managed to get on the flight, and we thought all our bad luck was over for the day. Boy, were we wrong..
–
• • • • • • • • • • • • • • •
–
Gårsdagen må være en av de morsomste dagene jeg har hatt på leenge, haha. Jeg aner ikke hvordan Eirín og jeg får det til, men på en eller annen måte klarer vi alltid å fucke opp selv den enkleste situasjon. Dagen min startet klokken 05.00, og da klokken begynte å nærme seg 6 bestemte jeg meg for å ringe Kristiansen for å sørge for at hun var våken og klar til å gå. Hun la på etter et par ring, før hun sendte melding og fortalte meg at hun hadde full kontroll, og at vekkerklokken skulle ringe klokken 6. Jeg sendte melding tilbake og spurte om hun var klar over at flyet vårt gikk om under en og en halv time. Det var hun IKKE! Hahah. Stakkars vennen – hun kom løpende inn på flyplassen rett fra sengen, og hadde ikke engang fått sminket seg. Da det var ca 25 minutter igjen til flyet skulle gå, gikk det opp for meg at jeg hadde glemt å ta med pass. Altsåå.. Hvem gjør det?!? Haha. Heldigvis har jeg en veldig snill kjæreste, som kom og leverte det sekundet før gaten stengte. Puh!! Deretter ble vi sittende i flyet alt for lenge før det tok av, som førte til at vi landet i Oslo et lite kvarter før neste fly skulle gå. Det flyet var jeg ikke engang sjekket inn på, så vi var helt sikker på at turen vår kom til å ende der, haha. På mirakuløst vis fikk jeg et sete på det overbookede flyet, og vi var ihvertfall enige om at vi ikke kunne ha mer uflaks på én dag. Der tok vi feil, haha..
–
–
Most of the pics are borrowed from

Eirín
–
–
When we arrived in Riga, we went straight to a restaurant for a three course lunch with the other influencers. We sat next to the super sweet Andreas, who must be one of the nicest people I've ever met! So anyway, after a long lunch with lots of water and wine, we of course had to use the bathroom before we headed off to the boat trip, which was the main reason we were there. We let the other ones know that we would be out in 2 minutes, but when we got there, they were all gone.. Hahah, I can't even think about how stupid we must have looked, standing in the streets of Riga with such disappointment and confusion, while the rain was pouring down on us. We thought we saw our group and ran after them, but that ended up just being a random school class, hahah. Eventually we just looked at each other, burst into laughter and came up with the perfect hashtag for the day; #leftinlatvia. We ended up having an amazing time though! We sat down on a cute street café, shared a bottle of wine, laughed, talked, laughed some more, and enjoyed ourselves to the max. The rest of the group didn't notice that we were gone until it was time to head back to the airport, and we all had a good laugh about it, haha.
• • • • • • • • • • • • • • •
––
Da vi ankom Riga dro vi rett til en restaurant for en treretters lunch med de andre influencerne. Vi satt forresten sammen med Andreas, som må være et av de hyggeligste menneskene jeg har møtt! Uansett – etter en deilig lunch med masse vann og vin, måtte vi selvsagt en rask tur innom toalettet før vi dro videre for en båttur, som var hovedgrunnen til at vi var i Riga in the first place. Vi ga beskjed om at vi kom ut om 2 minutter, men da vi kom ut var alle vekke.. Hahah, som vi må ha sett ut! To bortkomne jenter med forvirring og skuffelse i ansiktene, midt på gaten i Riga mens regnet pøset ned.. Vi trodde vi så gruppen vår og løp etter dem et lite stykke, helt til vi innså at det bare var en random skoleklasse. Etter hvert så vi bare på hverandre og brøt ut i latter, og hadde det veldig gøy med setningen «Forlatt i Latvia», haha. Vi endte opp med å ha et par fantastiske timer der! Vi slo oss ned på en gatecafé, delte en flaske vin, hadde utallige latterkramper og fine samtaler, etterfulgt av enda flere latterkramper, så var det plutselig på tide å dra tilbake til flyplassen. Resten av gjengen innså forresten ikke at vi manglet før de skulle dra tilbake, men vi tok det alle med en god latter. Vi hadde jo storkost oss!
–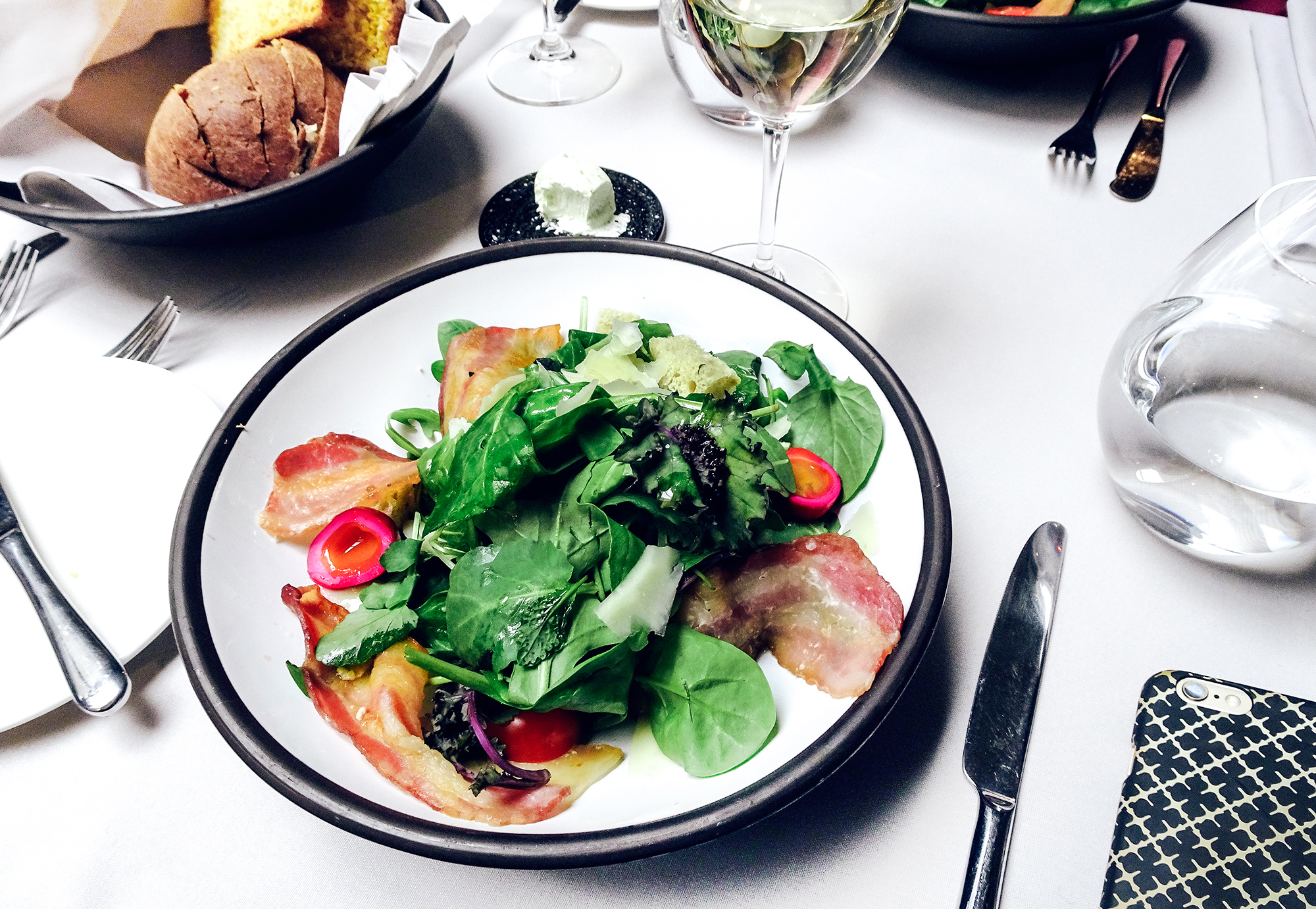 –
We miraculously managed to get home to Bergen in one piece, and we both agreed that the day had been absolutely fantastic, despite tons of stress, hah. The laughter continued on the way home, especially when Kristiansen started talking about waffles in her sleep, hahah. Needless to say – we had to go on a hunt for waffles during our layover in Oslo. Ah, days like this♥
–
• • • • • • • • • • • • • • •
–
På magisk vis klarte vi faktisk å komme oss hjem igjen til Bergen, og vi var begge enige om at vi hadde hatt en helt nydelig, fin og morsom dag, til tross for masse uflaks og stress, hah. Latteren forsatte forresten på veien hjem, spesielt da Kristiansen begynte å snakke om vafler i søvne. Needless to say – vi måtte på vaffeljakt da vi landet i Oslo, haha. Åh, dager som denne♥