–
Tapas & game night with my besties
♥
Ah – what a night!! As I told you yesterday, I had invited my best girlfriends over for a tapas and game night, which is my absolute favorite kinda night! I had stressed so much all day, so the second I took these pictures, and everything was actually ready, I got the best feeling. Finally I could leave all the stress from the week behind, and just enjoy myself in the companies of some of my favorite humans! Here's last night's table setting, with new wine glasses from Kremmerhuset. They're drop shaped, and I love them so much.
• • • • • • • • • • • •
Ah – for en kveld!! Som jeg fortalte i går, hadde jeg inviterte mine bestevenninner over for tapas- og spillkveld, som uten tvil er min favoritting å gjøre med jentene. Jeg hadde stresset så mye hele dagen, så da jeg tok disse bildene kunne jeg endelig puste ut – all jobb var unnagjort, huset var klart, og jeg hadde den beste følelsen! Endelig kunne alt stresset fra uken og dagen legges bort, og jeg kunne bare nyte livet i selskapet av noen av de beste menneskene jeg vet om. Her er kveldens borddekking, med nye vinglass fra Kremmerhuset. De er store og dråpeformet, og jeg elsker de! De runde vannglassene er forresten også nye, de er fra Rosendal og jeg fikk de til jul av svigerfamilien. Jeg fikk 4 stk, og prøvde å finne de i butikken i går slik at jeg kunne kjøpe flere, men de var dessverre utsolgt. De må jeg bare ha flere av! Fineste jeg har sett..
–
The perfect napkin for any girls night in! From Bloomingville..
• • • • • • • • • • • •
De perfekte serviettene for jentekvelder! Fra Bloomingville..
–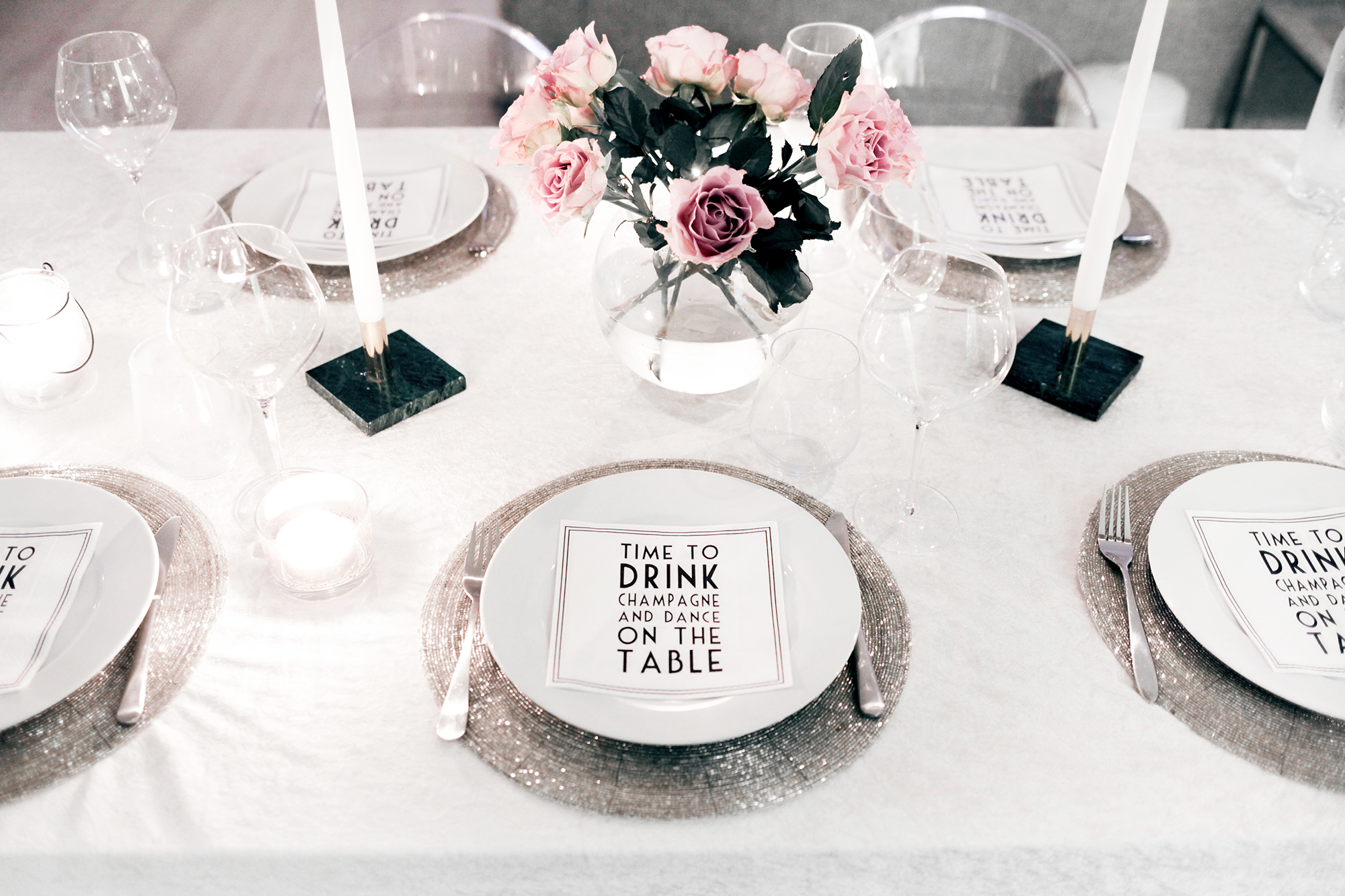 –
Cue watery mouth…
NOW

!

–
–
I meeeaan… Look at all this delicious food! It tasted even better than it looks, and we all ate until we couldn't breathe, hahah.
• • • • • • • • • • • •
Altså… Se på all den deilige maten!! Den smakte til og med bedre enn den ser ut som, og vi spiste alle til vi fikk pustevansker, hahah.
–
–
Recipe → Taco bowls
I made these taco bowls, which tasted so incredibly yummy. I bought mini tortillas, and put them in small glass bowls that are oven-safe. I had them in the oven at 200º until they turned brownish, and put them on a tray. When they cooled down they were completely stiff, and ready for filling! In the bottom I put ground beef with taco spice, then a mix of very finely chopped onion, cucumber and tomato, before I finished off with cheese, a dash of sour cream, salsa and crushed tortilla chips. Very easy, and a fun and new way to serve tacos in these tortilla bowls!
• • • • • • • • • • • •
Oppskrift → Tacoskåler
Jeg laget disse tacoskålene, som smakte såå utrolig godt. Jeg kjøpte minitortillas på Rema 1000, og hadde de i små ildfaste former i ovnen på 200 grader. Da de begynte å bli litt brune tok jeg de ut, og lot de kjøle seg ned på et fat. Da de var kalde var de helt stive, og klar for fyllet! I bunnen hadde jeg kjøttdeig med tacokrydder, før jeg hadde i et godt lag med en miks av veldig finhakket løk, agurk og tomat. Deretter drysset jeg på ost, en dæsj med rømme og tacosaus, før jeg avsluttet med å drysse knuste tortillachips over herlighetene. Veldig lettvint, men samtidig en ny og fin måte å servere taco på. Nam!
–
–
Y U M !
–
–
Recipe → Tortilla rolls
Mmm, these tortilla rolls are a must on every single tapas table. Simply spread a good layer of cream cheese on a big tortilla, then put on serrano ham, arugula, red onion and pine nuts. Roll it together, and cut it up in small pieces. Ta-daa!
• • • • • • • • • • • •
Oppskrift → Lefseruller
Mmm.. Lefseruller er et must på ethvert tapasbord. Alt du trenger å gjør er å smøre et godt lag med kremost på en tacolefse, før du har på serranoskinke, ruccola, rødløk og pinjekjerner. Rull herligheten sammen, kutt opp i små biter, et voila!
–
–
In addition this we had homemade meatballs in tomato sauce (mm, thanks Eirín), a shrimp and avocado salad, asparagus wrapped in serrano ham, spring rolls, cheese and crackers, boat potatoes and focaccia.
• • • • • • • • • • • •
I tillegg hadde vi hjemmelagde kjøttboller i tomatsaus (mm.. Takk Eirín!), reke- og avokadosalat, asparges surret i spekeskinke, vårruller, ost og kjeks, båtpoteter og foccacia..
–
–
I love these new light holders in green marble by the way! They were on sale at Kremmerhuset to only 29kr, can you believe it!?
• • • • • • • • • • • •
Jeg elsker mine nye lysestaker i grønn marmor, forresten. De var på salg på Kremmerhuset til bare 29kr, kan du tro det?!
–
–
After dinner we headed to the couch and played our favorite board games while drinking wine and laughing more than I've done in a long time, before we called it a night around 2am. One of the more calm tapas nights I've hosted, but we were all so incredibly tired towards the end, so it was absolutely perfect. My cousin slept over, and today we've just chilled on the couch watching Friends. I can't wait to do this again soon♥
• • • • • • • • • • • •
Etter middag flyttet vi oss over til stuen, der vi spilte favorittspillet vårt «Ryktet Går», drakk vin og lo mer enn vi har gjort på leenge, før vi kalte det kvelden rundt klokken 02.00. Dette var en av de roligste tapaskveldene jeg har hatt, men vi var så trøtte fra uken alle sammen, så det var rett og slett helt perfekt. Min kjære kusine sov over på sofaen, og i dag har vi bare kost oss og sett på Friends fra sofakroken. Herlig! I kveld blir det tapasrester til middag, og jeg gleder meg allerede. Nam♥